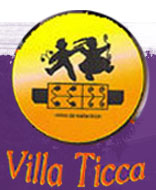 Villa Ticca is a non-for-profit foundation that provides childcare to poor families in south of Quito. Families in this area commonly suffer from issues of domestic violence, substance addiction and the rate of single motherhood is high.
The day care service at Villa Ticca provides children with nutritious meals throughout the day, educational classes in preparation for when they attend school and medical check-ups. Parents of the children also benefit as it allows them the freedom to earn an income during the day whilst having the peace of mind that their child is being well taken care of.
The foundation was started in 2002 by Mariska Versteegh and Evelien Kremer who met when they were both working as volunteers in Quito. They were motivated to start Villa Ticca due to the lack of services available to these families. Through their hard work and with the support of donors Villa Ticca provides care to approximately 80 children every day.
For more information please visit: www.villaticca.com